"For me, when it comes to designing a garden the relationship with the client is as important as understanding the spirit of the place. It isn't enough for me just to design a good garden. I want it to be an enjoyable, inspirational process for everyone, because in that way not only is it a fun, creative journey, the end product will be the best it possibly could be, and a source of great pride and happiness."
Matthew has over 20 years of experience in garden and landscape design.  He has designed beautifully detailed city and country gardens for private clients; created master plans for National Trust and English Heritage properties; made impressive landscapes at one of the UK's leading independent hotels; and designed gardens at Chelsea Flower Show, including the 2016 BBC/RHS People's Choice Award winner 'A Garden For Yorkshire'.
During a ten-year career with the Royal Horticultural Society Matthew designed iconic garden features such as the award winning Dry Garden at Hyde Hall to the much photographed Main Borders and Winter Walk at Harlow Carr.
He occasionally finds the time to work on his own garden in Rutland.
If you would like to talk to Matthew about how he can help with your garden please do email him on info@matthewwilsongardens.com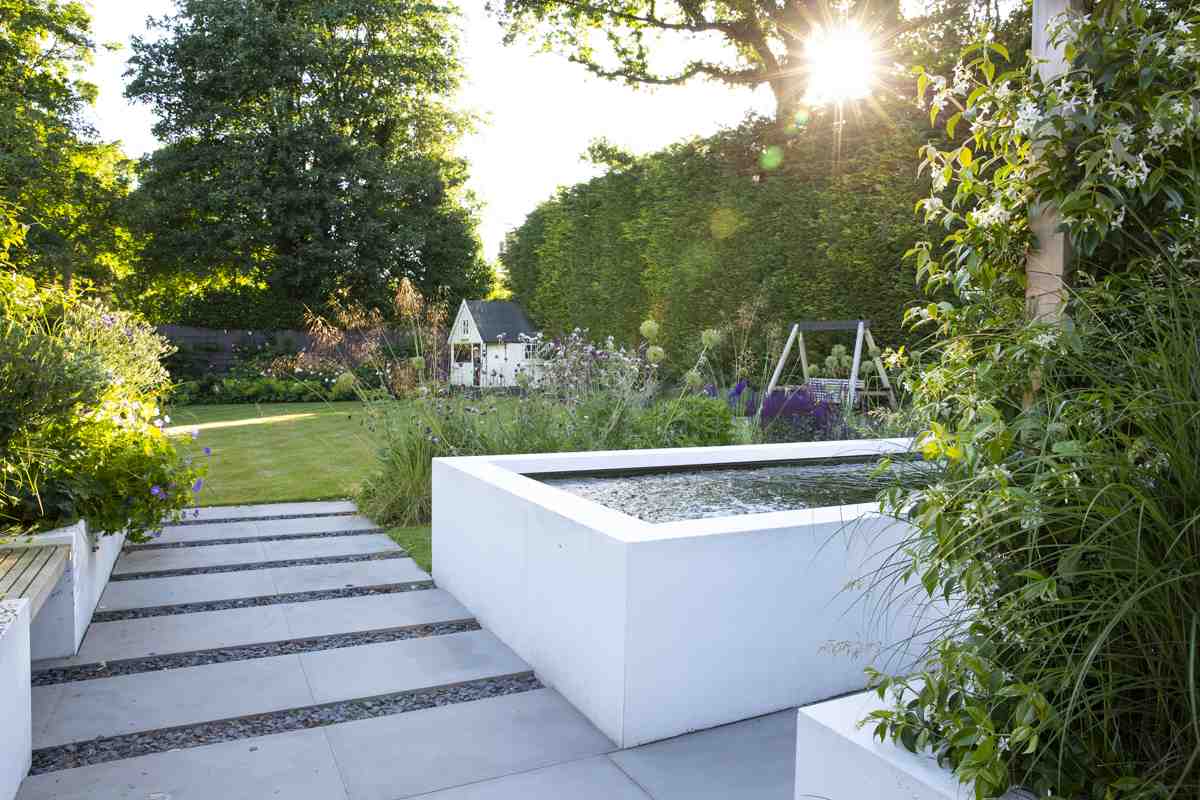 North London Garden
Rudding Park Roof Top Spa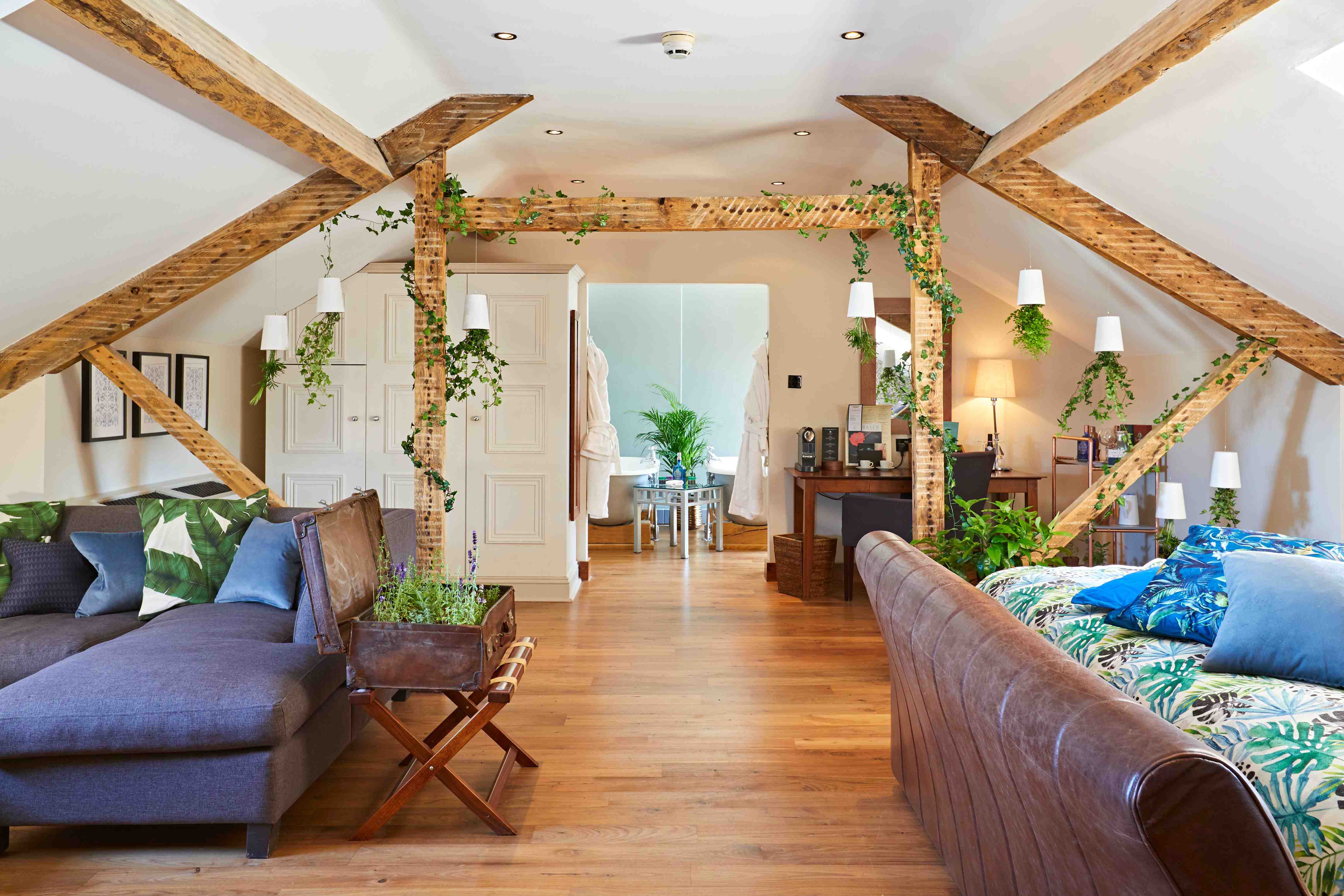 Slingsby Gin/Hotel du Vin
Chelsea Flower Show 2016
Chelsea Flower Show 2015
Hampstead Garden
Hyde Park roof terrace
Knightsbridge Garden
Knightsbridge roof terrace
Rudding Park Hotel
Rudding Park Kitchen Garden
St Johns Wood Garden
Earl Mountbatten Hospice
Immediate Media HQ
Feversham Arms Hotel
Dulwich Garden
The Dry Garden at Hyde Hall
Harlow Carr Gardens
North London Garden

The brief for this garden was to create an easy to care for garden that made the most of the pre-existing large but worn out lawn, and that made an entirely new seating/dining area near to the house. This was to have a different, more contemporary feel, and needed to accommodate the client's koi carp! The project was made more complicated by the tonnes of concrete a previous owner had poured around the house, meaning the beds had to be built up. The resulting garden has two distinctly different areas with contrasting but complimentary aesthetics; updated country garden and contemporary space. Photo credits: Rachel Warne

Rudding Park Roof Top Spa

This major project to create a landscape and roof garden for a brand new luxury spa at Rudding Park Hotel was three years in planning. Matthew designed the landscape to take advantage of opportunities created through the design of this hugely successful building. The roof garden is a sun soaked relaxation space planted with big drifts of airy ornamental grasses that waft in a breeze or shimmer in the sun. A flick-flack \'avenue\' of multi stem Amelanchier forms the spine of the planting running the full length of the roof garden, providing beautiful spring blossom and great autumn colour. A grove of multi stem birch trees provide dappled shade in summer and striking white bark to admire in winter.

Slingsby Gin/Hotel du Vin

Matthew collaborated on this joint project with Slingsby Gin, the Harrogate based artisan gin distiller, and Hotel du Vin, to create four 'ginspiration' suites. Each suite included a range of botanicals as features in Slingsby's London, Rhubarb and Navy Cut gins, using a mixture of vintage suitcases, hand thrown Victorian terracotta pots and hanging 'skyplanters' to display them. There was a nice connection for Matthew, as many of the botanicals used by Slingsby come from the kitchen garden at Rudding Park hotel, which Matthew designed in 2013. The three month long installations were created in the York, Harrogate, Brighton and Birmingham Hotel du Vin hotels.

Chelsea Flower Show 2016

God's Own County – The Welcome to Yorkshire garden. Matthew's was awarded the prestigious BBC/RHS 'People's Choice Award' for this garden, a contemporary re-working of the components of York Minster, inspired by the Minster's Great East Window, the largest expanse of medieval stained glass in Britain.

Chelsea Flower Show 2015

The Royal Bank of Canada Garden Inspired by the flow of water in natural streams, and the dry river beds of arid landscapes, Matthew created a zero irrigation Mediterranean garden featuring low water edible plants, supporting sponsor Royal Bank of Canada's Bluewater initiative. The garden was awarded a silver-gilt medal. Photo credits: Rachel Warne

Hampstead Garden

The client brief for this garden in Hampstead Garden Suburb posed an interesting challenge – a space in which 5 children could have fun, and in which the adults could enjoy some 'grown-up' space. The resulting design managed to provide extensive play space for the children, and beautifully planted areas for the adults. Photo credits: Rachel Warne

Hyde Park roof terrace

Working with Grosvenor Estates, Matthew designed this high spec roof terrace as part of the redevelopment of an extensive property on Grosvenor Crescent. The terrace included bespoke joinery, antiqued mirrors to give a greater sense of space, and carefully designed lighting to enable use day and night.

Knightsbridge Garden

The client brief for the front and rear gardens of this property on one of London's most prestigious streets was to create engaging, beautiful spaces that could be appreciated at any time of year. The rear garden features an extensive living wall to create a verdant backdrop, a bespoke vertical water feature and graceful Japanese acer tree. The front garden centres on two linear water features, creating a peaceful ambience and 'kerb appeal'.

Knightsbridge roof terrace

Small spaces often pose the most significant challenges for design. This small roof space in a substantially remodelled Georgian property was designed around three factors – space for a set of garden dining furniture, the owners' love of antique Japanese garden artefacts, and the large picture window from the house. All while allowing enough space for a garden dining table and chairs. Photo credits: Rachel Warne

Rudding Park Hotel

Matthew has worked with the owners and management team at this multi-award winning Yorkshire hotel since 2009. Projects have including the landscaping to an extensive new guest accommodation wing, long term tree planting strategy to ensure the future of the estate's tree scape, and, currently, the landscaping for a significant new spa development.

Rudding Park Kitchen Garden

As part of the on-going development of Rudding Park Hotel, a one and a half acre kitchen garden has been recreated in the lee of the old, early Victorian kitchen garden. Focussing on unusual and heritage varieties, produce from the garden forms key components of the hotel restaurant menu – and the garden is a huge hit with the guests.

Earl Mountbatten Hospice

Matthew's 2015 Chelsea Garden found a new home on the Isle of Wight, at Earl Mountbatten Hospice. Thanks to the generosity of Royal Bank of Canada, the charity Matthew chaired, Greenfingers, were able to organise the recreation of the garden, with a revised design specifically for the hospice.

Immediate Media HQ

Perhaps the toughest brief of all for the HQ of this large magazine publisher – make a garden in a car park! In response, Matthew dreamed up the idea of a Scandinavian woodland glade – in Hammersmith. The space was designed to be used for staff and client meetings, parties and lunch breaks, and is well used throughout the year.

Feversham Arms Hotel

Matthew designed the courtyard garden around the swimming pool for this luxury boutique hotel in Helmsley, North Yorkshire. The challenge in such a small space was to provide privacy for pool side rooms and those using facilities such as the hot tub and sauna. A mixture of structural planting and bespoke oak joinery created individual 'zones' within the courtyard.

The Dry Garden at Hyde Hall

The Dry Garden is an iconic feature of Hyde Hall, the Royal Horticultural Society Garden in Essex, which located in an area with an average annual rainfall lower than Jerusalem and Beirut. Designed and created during 2000/2001 the garden features showcases plants from arid climates in a naturalistic setting with the aesthetic of a Mediterranean hillside. Since completion the garden has never been artificially irrigated. The Dry Garden is widely considered o be one of the finest gardens of it\'s type and a hugely influential piece of design, of which Matthew remains immensely proud.

Harlow Carr Gardens

Matthew worked for the Royal Horticultural Society for 10 years, including 5 years as Head of Site at Harlow Carr in Harrogate. Among the widespread redevelopments that took place during his tenure were the design and construction of a new Alpine House, creation of the Winter Walk, and the design and planting of the Main Borders (featured).